Company name
Bionics Co., Ltd.
Address
NIHONBASHI MITSUI TOWER 6F,
2-1-1 Nihonbashimuromachi, Chuoku, Tokyo Japan 103-0022
Capital
20 million yen
Business details
the planning, development and sales of medical equipment
Major customers
national major retailers; major fitness groups throughout Japan; Asahigiken Kogyo Co., Ltd.
Affiliated organizations
The Fitness Industry of Japan (FIA), Japan Council of Shopping Centers
History
2005: Bionics Co., Ltd. established in Shinagawa-ku, Tokyo, for the purpose of the development and sale of high-potential therapeutic devices.
Developed and began sales of the FUTURE 14000
2007: Relocated to Kojimachi in Chiyoda-ku, Tokyo following business expansion due to product development and production management
2011: Headquarters is moved to Yotsuya, Shinjuku-ku.
2018: Headquarters has been relocated Kyobashi,Chuo-ku.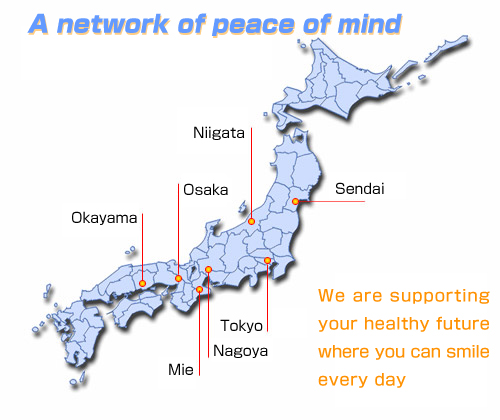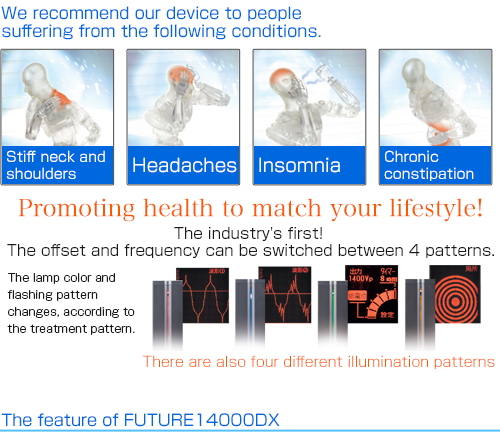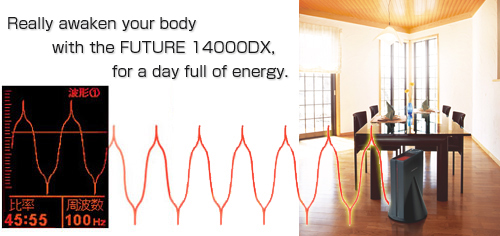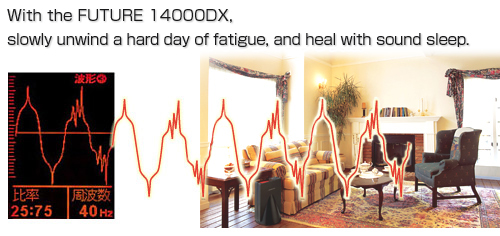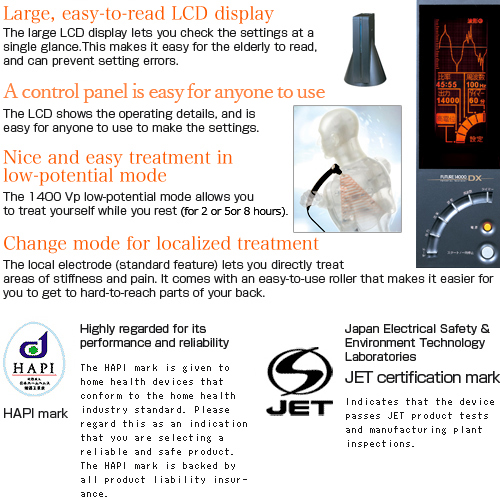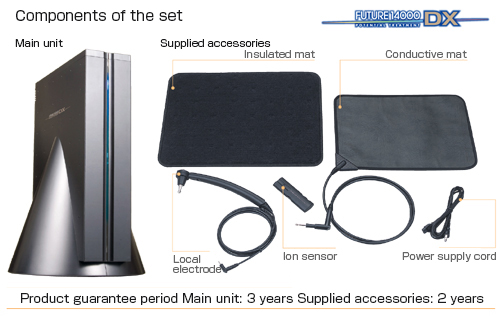 | | |
| --- | --- |
| FUTURE 14000DX Specifications | |

Power supply
AC 100V (220-240V compatible) 50/60 Hz
Power consumption
20 W (during potential therapy)
Weight/size
Approx. 13 kg. (W) 320 x (D) 330 x (H) 480 mm
Output voltage
Potential treatment 14000 Vp, 9000 Vp, 4500 Vp (wave crest value)Localized treatment 1200 (effective value), low-potential treatment 1400 Vp (wave crest value)
Waveform
Potential treatments
1) Strain waveform (Waveform 1, waveform 2, waveform 3) (Waveform 3 is a repeat of waveform 1 and waveform 2 every three minutes)
2) Offset ratio (45:55, 35:65, 25:75)(The offset ratio is the ratio of the ratio of positive to negative aspects of the wave crest values of the output waveform.)
Localized treatment : Sine wave AC current
Low-potential treatment : Sine wave AC current
Frequency
Potential treatment: 40 Hz, 70 Hz, 100 Hz
Localized treatment: Commercial frequency (50/60 Hz)
Low-potential treatment: 40 Hz
Timer setting
Potential treatment: 20 min., 40 min., 60 min.
Localized treatment: 10 min.
Low-potential treatment: 2 hours, 5 hours, 8 hours
Safety device
An over-current protection function
Medical device approval number
21600BZZ00384000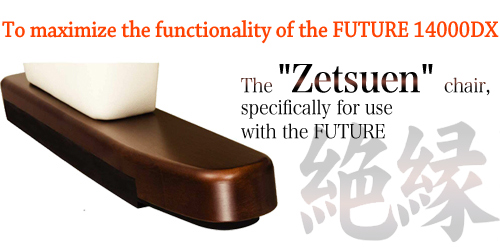 High-potential therapeutic devices achieve their therapeutic effects by using a high-voltage alternating current to create an electric field. You place yourself in this field to receive therapy. Therefore, to enhance the therapeutic effect, it is important to create a more complete electric field. This is where the role of the chair comes in. The Zetsuen chair, specially for the FUTURE, was developed to increase the level of electrical resistance and thus prevent the loss of the high potential being applied to the user by the electric field. "Zetsuen" is Japanese for "isolation," so the Zetsuen chair with its electrical resistance isolates the user inside the electric field, for a greater treatment effect.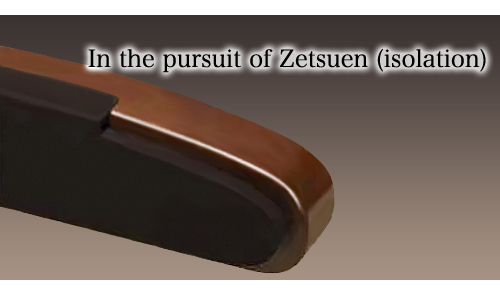 We have used the results or our thorough research into electrical insulation and have specially processed the legs of the Zetsuen chair. The special wooden legs and 28-mm-thick layer of secret-formula urethane foam achieve a high level of electrical resistance that prevents the high-potential from escaping.
The headrest position can be adjusted, and the headrest can be removed entirely. In addition, you can use it as a cushions for your back or waist.
The electric mat is placed between the seat and the seat cover. The seat cover holds the mat in place so that it doesn't slip.

Our thorough quality management system subjects equipment to a 20,000-time endurance test. Together with our efforts to improve safety and our concern for the natural environment, all our products are made in Japan. This brings great confidence and peace of mind.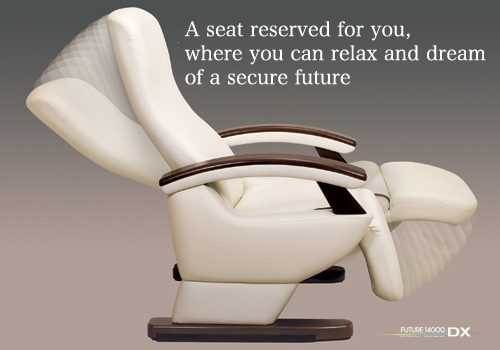 As a result of our pursuit of the kind of seat on which people could relax the most, we came up with the design concept of "Zero Gravity." The design of the Zetsuen chair was a collaboration between our staff and designers who had considerable experience in the development of ultra-luxurious seats, such as those used by international airlines in their First Class and Premium Class sections. The chair has an aerodynamic style. Its well-designed form offers a seat height of 42 cm, which will appeal to users over a wide range of ages. The seat has an infinitely adjustable reclining mechanism and upholstery with the feel of soft leather. We promise that this chair will give you a level of comfort befitting its quality.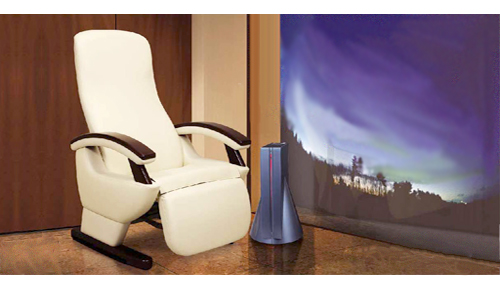 ● Dimensions of the Zetsuen chair specially for use with the FUTURE: Width 740 mm × depth 810 (1,350) mm × height 1,100 (780) mm. Weight: 37 kg
* ( )Figures inside brackets are the seat dimensions when the seat is horizontal.
● The specifications and appearance of the Zetsuen chair specially for the FUTURE are subject to change without prior notice.
● This product complies with the requirements of the Law on Promoting Green Purchasing (Law Concerning the Promotion of Procurement of Eco-Friendly Goods and Services by the State and Other Entities).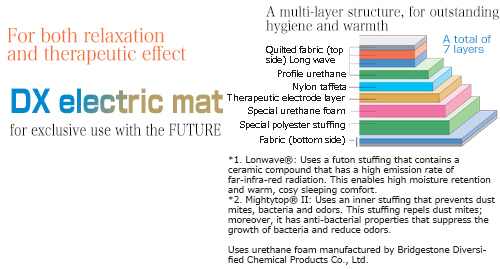 Multi-layer structure is helpful for your relax.
You can feel comfortable because the mat's multi-layer structure, supports electrical resistance, will ensure that you receive ample therapeutic effects.
Since you will use this mat every day, we choice the high quality materials.
The harmony between the seven layers of the mat, each exerting its own characteristics, forms a healthy structure and supports your body with a comfortable firmness. In addition, we have put quality first and foremost. The mat has been designed with careful consideration to hygiene, and the prevention of dust mites, bacteria and odors.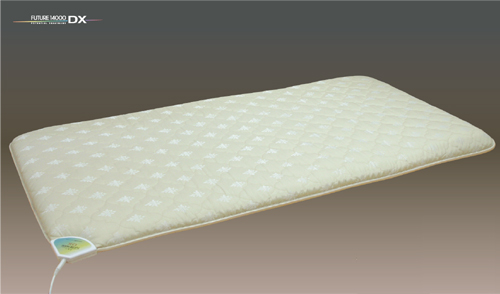 ● FUTURE DX electric mat dimensions: width 1,000 mm × length 2,000 mm.
● The specifications and appearance of the FUTURE DX electric mat are subject to change without prior notice.